On Sunday 23rd June 2019, I took part in the Swansea Half Marathon and it was hot, humid with a headwind that kicked in from about mile 9 and stayed with us for the rest of the race.
Firstly, I want to give my deepest condolences to the family and friends of the runner who collapsed and died during the race. It's such sad news.
Secondly, I want to give a massive thank you to all the 'race makers' who constantly cheered us on and kept us going in the right direction – you were amazing! Also a big thank you to the organisers and everyone involved in making the event possible.
---
Pre-race fun
I met up with my awesome running buddies, Rosie and Rhian for selfies plus a Rhian-led warm-up which had us doing ballerina moves around a tree. Please let someone have video'd it!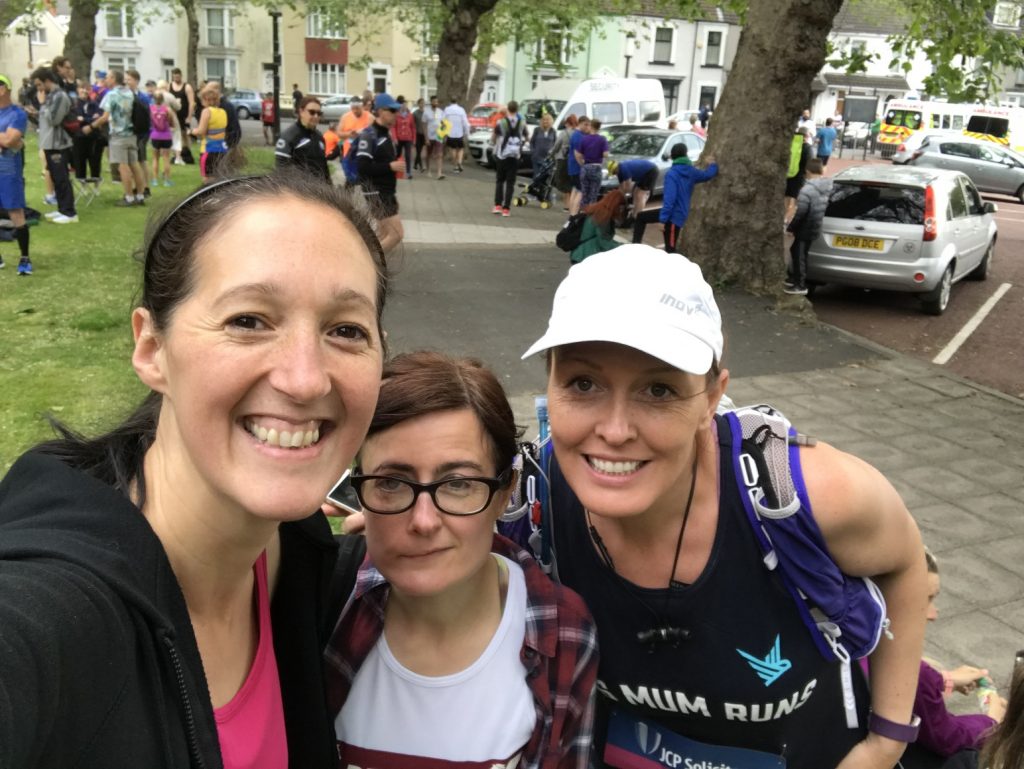 After our entertaining warm-up, we moved to our starting pen where the nerves and excitement really kicked in. The 10 minutes from getting into the pen until the start of the race felt like 4 hours but then we were off. The Swansea Half Marathon had begun. We said 'good luck, have fun' to each other and then the 3 of us ran our own race.
As always, I started off a tad too quickly but then decided to just let my body decide what it wanted to do. I wasn't running for a time or personal best (PB) so wasn't bothered about my pace. It turned out that my body didn't want to run and wanted to go for cake instead.
The route took us into the city centre and then we looped round and made our way out towards Mumbles. People lined the roads and cheered us on – we felt like rock stars!
---
By mile 4…
I was getting into a nice pace and starting to enjoy the race. I took in my surroundings and enjoyed the pleasant breeze that graced us with it's presence now and again as we got closer to Mumbles. We turned around at Verdi's cafe and headed back along the seafront to the city centre. I love running along the seafront and the support from people along the way was fantastic. There was music and cheering. Lots and lots of cheering.
Although it was a cloudy day, it was surprisingly hot and the humidity made me feel like I was running with lead legs. This wasn't the worse of it. Somewhere between miles 9 and 10, the wind decided to blast us in the face and keep it up until the end.
During the last 5 ish miles, I noticed that quite a few runners had stopped and were receiving help from marshalls/supporters. I knew then that I had to just keep moving and not try to push myself, it wasn't the right conditions.
---
Only a parkrun to go!
At mile 10 I started chatting with a lovely lady called Sam, we kept each other company and kept each other moving to the finish. At one point I started to walk and she pulled me along to make me run again. Thank you Sam, I needed that!
I'd been following a guy back from Mumbles who would run for a bit then walk. I'd catch him up to him and then he'd start running again. Just before we turned to run over the last bridge I saw him walking so I shouted at him to keep moving and told him that I'd been chasing him since Mumbles and there was no way he was finishing after me.
Luckily he was grateful of this and didn't think I was some crazy lady who he should avoid. He joined Sam and I for the last push. Suddenly I saw him walk again then heard Sam shout at him until he started running. The 3 of us sprinted (well, it felt like sprinting) to the finish line together.
---
It was finally over…
I was so relieved. We had congratulatory hugs then we wandered around the finish funnel to get our water, cereal bar, t-shirt and medal. At the end of the funnel we had a big hug, thanked each other and said goodbye. It was a fantastic end to an incredibly well organised race.
Rhian and Rosie were waiting for me at the end. We had hugs, exchanged views about the race and then posed for a medal photo. You can't finish a race without a medal photo. Or 5.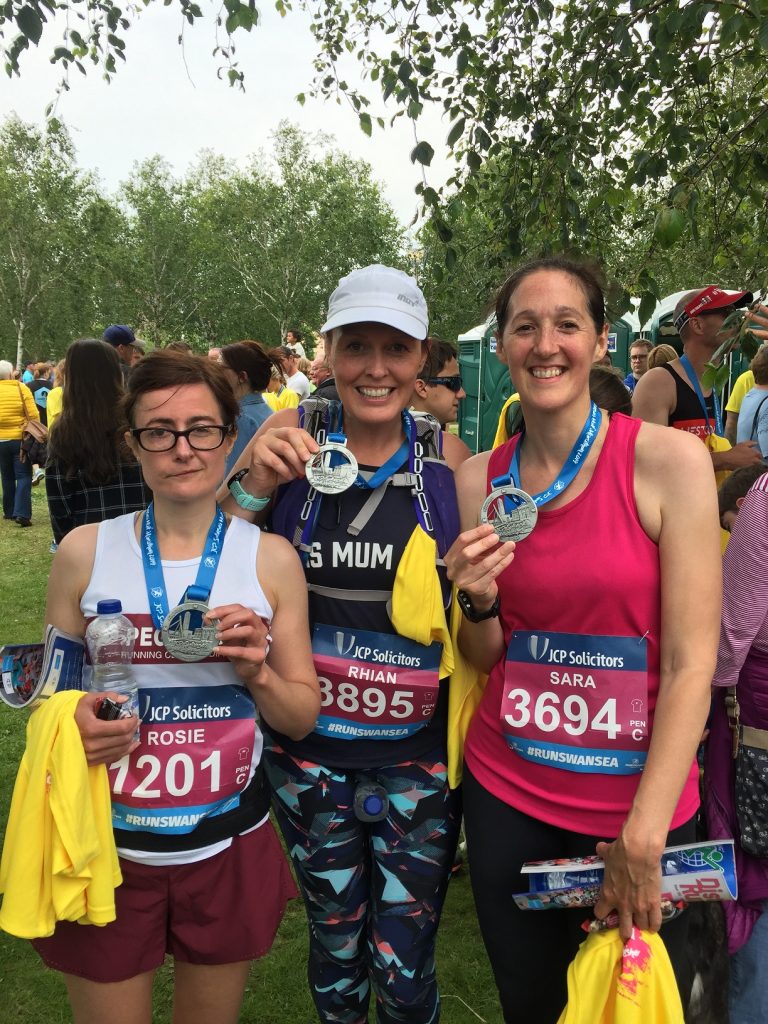 The Swansea Half Marathon is a fantastic event and one that I'd like to return to next year but as a 'Race Maker'. Those guys looked like they were having so much fun!
---