Another Christmas, another Merthyr Mawr Christmas Pudding Race!
I have to say that the hype about the Merthyr Mawr Christmas Pudding Race is well deserved. It's an incredible event and the fact that it sells out so quickly each year shows how loved it is.
I ran my first Merthyr Mawr Christmas Pudding Race two years ago and it started my love for trail running. Unfortunately, last year's race was postponed due to awful weather and I was ill by the time the rearranged date came around in January so I couldn't run it.
Back in October I sat at my computer at 6:55pm and waited for the entries to open at 7pm. It always seems to be a bit of a mad panic to get a place and I was lucky enough to get one again this year.
The Day of the Race
Fast forward 2 months and the day of the race arrived. I picked up my running buddy, Rhian, and we drove to the event. I was slightly anxious as I've had a niggly hamstring since my marathon but also very excited about the race.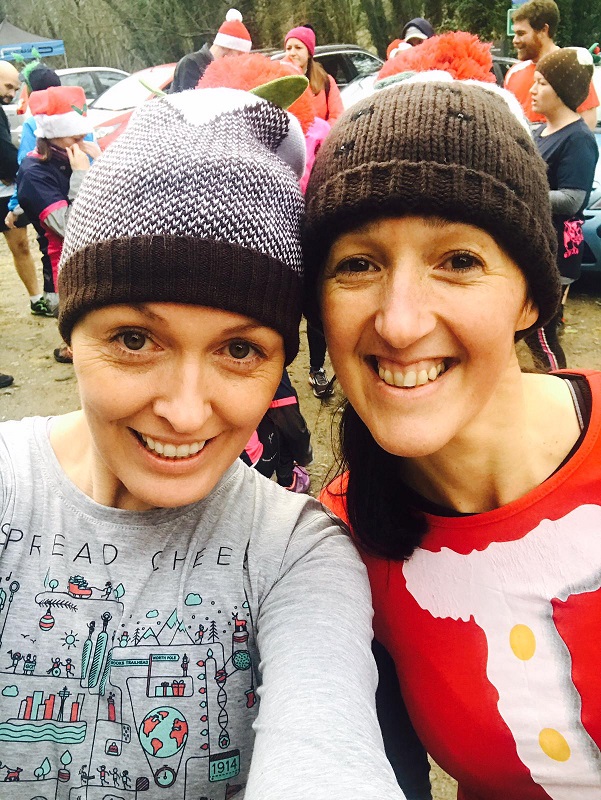 The race starts at the bottom of the second largest sand dune in Europe. You basically have to try to get to the top without dying.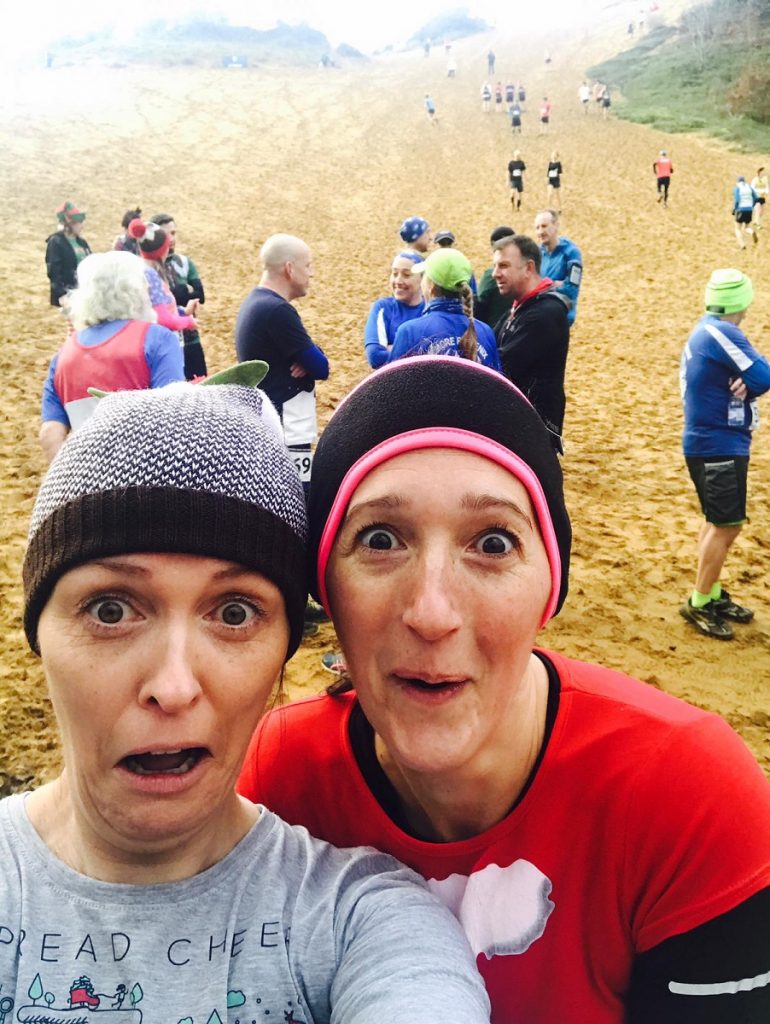 Rhian and I decided to do a little warm up by running up the smaller of the 2 sand dunes and ended up starting the race at the front of the pack. Eek!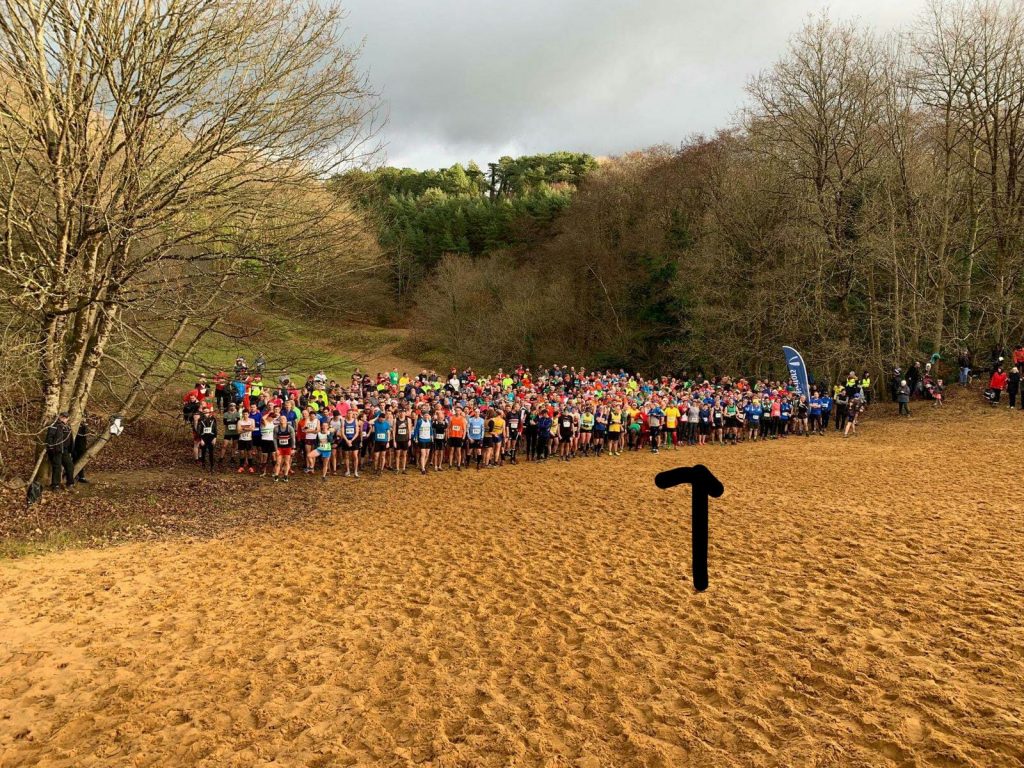 And We're Off!
Surprisingly we didn't get trampled by the rest of the pack after the starting bell was rung by Rory Mclaggan of Merthyr Mawr Estates. We started off running up the sand dune and probably got about halfway up when my legs had other ideas and walking/climbing seemed to be enough of a challenge.
We made it to the top! Hurrah! We couldn't actually speak for a few minutes and my heart felt like it was trying to escape from my chest but we were alive! Luckily there is a bit of a bottle neck at the top so we had time to get our breath back before it was time to run again.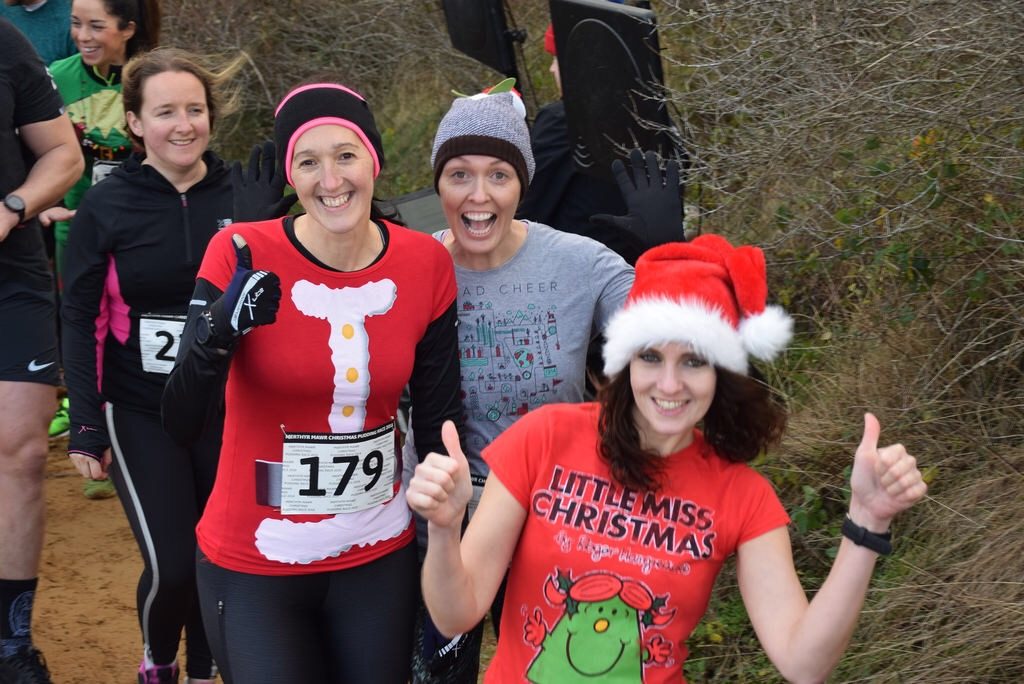 The Pit Stop
The race took us over sand, through water (lots of water!), muddy trails and fields with glorious views and then we could hear Christmas music. We were at the halfway checkpoint and the amazing support crew provided us with mulled wine, water, mince pies and shortbread fingers. It was awesome! Runners were standing around chatting and mingling while they ate and drank. It was a bit like a Christmas office party.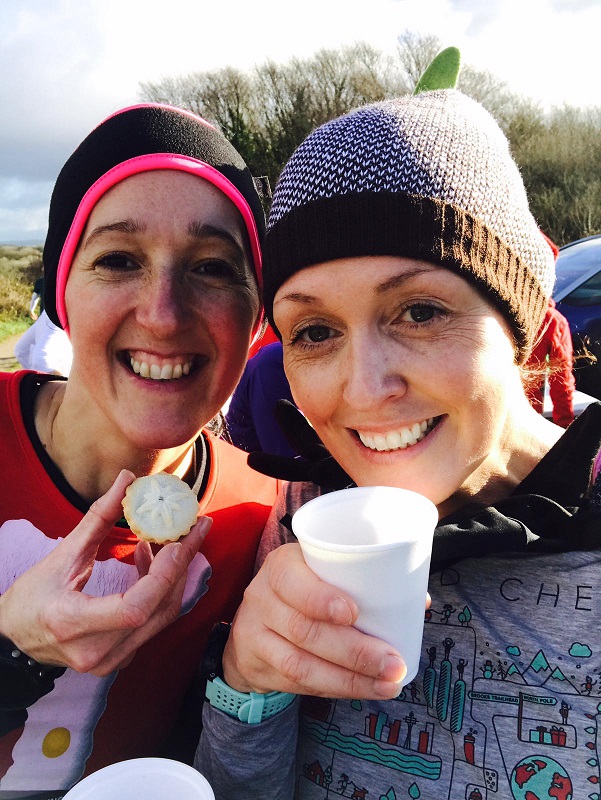 Once we had finished drinking and eating, we started the race again and the route took us through a beautiful wooded area. From here we went through more water and ended up back on sand then down to the beach.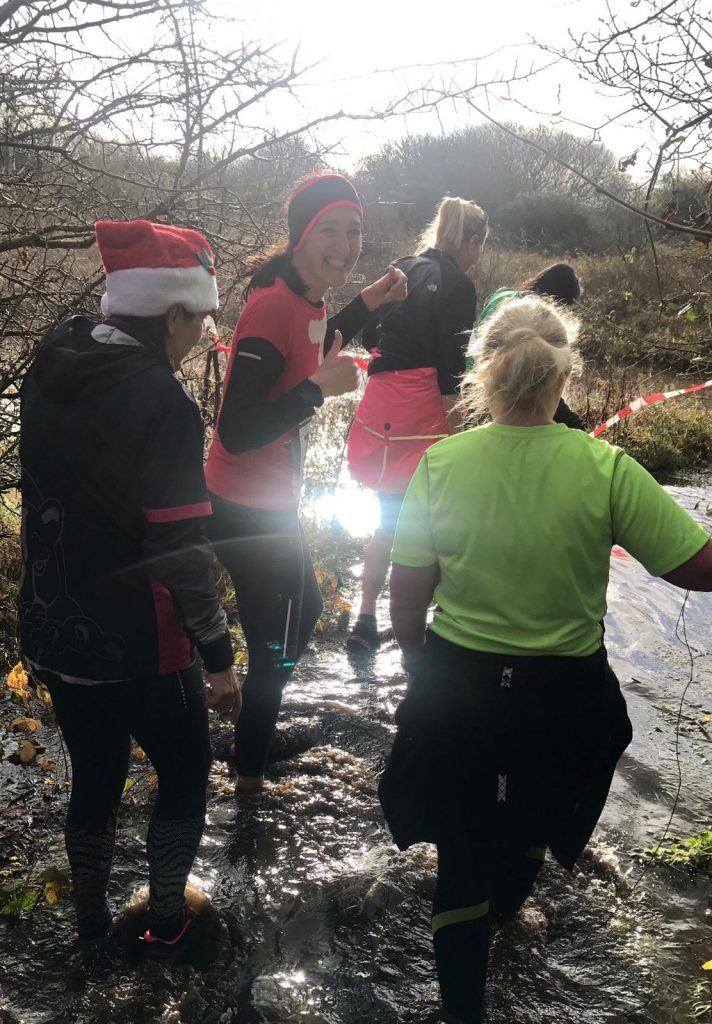 Sand, Sand and More Sand
The beach was never ending! I'm not sure how long we were on it but each marshal said that there was only about a mile to go. I felt like I'd been running on that beach forever so I think someone was telling fibs. From the beach we ran along Ogmore River and then we were only ½ mile from the finish. The rest of the route was mostly sand but there was a lot more water to come.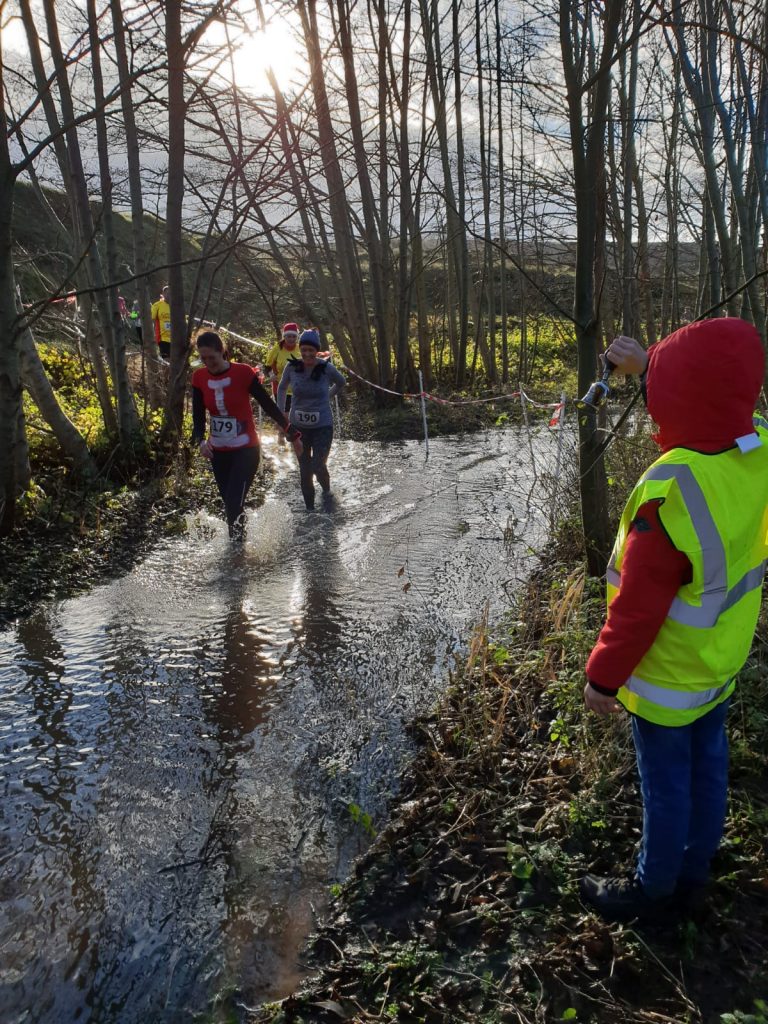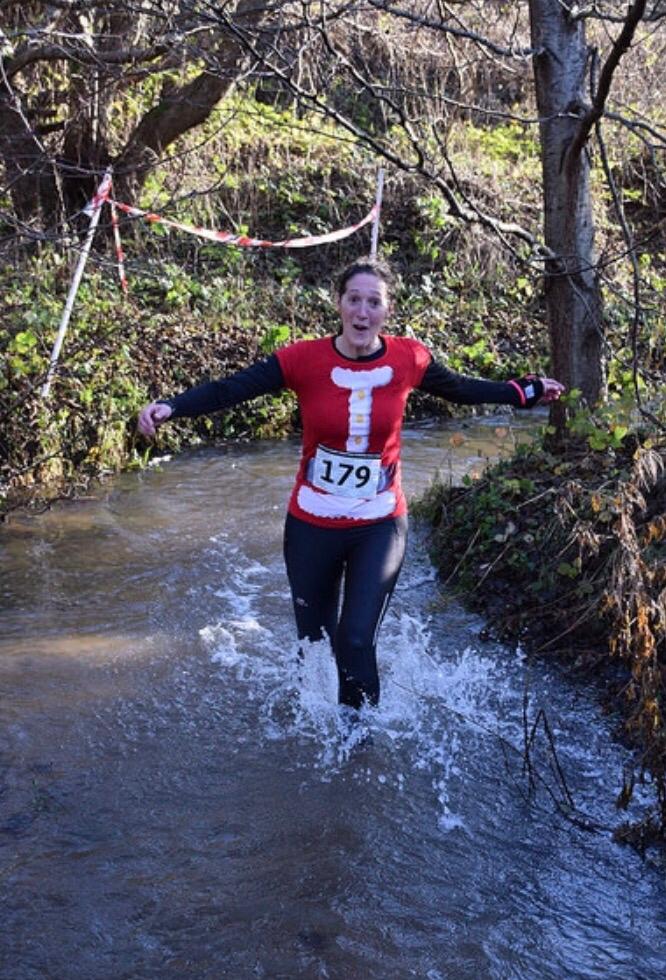 After 3 more streams of water, Rhian and I ran towards the finish and grabbed hands as we crossed the line. The race was over and I enjoyed every sandy/muddy/soggy step of it especially the 8 streams we ran through. As Rhian said "the things we'll do for a Christmas pudding!"
We Did It!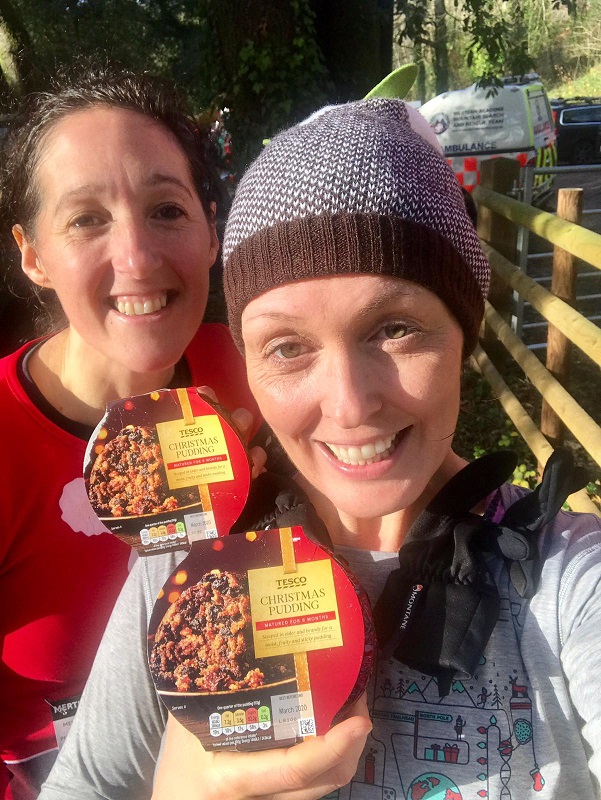 A massive thank you to Brackla Harrier and Merthyr Mawr Estate for organising another amazing Pudding Race. Also to all the marshals and West Beacons Mountain Rescue for making sure we stayed safe during the race. You are awesome!
For more information about how to enter the race, please click here.
Photo credit to Rhian Osborne and the Brackla Harriers photographer.