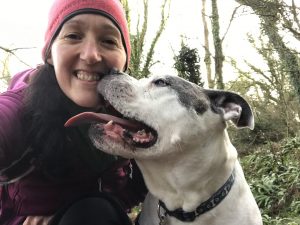 First solo hike and first video created!
I took my dog, Winston, to Oxwich Bay in the Gower (South Wales in the UK) for our adventure. An AA guidebook of 50 walks in Brecon Beacons and South Wales as well as a flask of tea and a cereal bar were in my backpack. I was ready to go.
Hiking with friends (who could read a map!) was something that I used to do a lot. I'd really missed it but was always too scared to go on my own.
I watched a YouTube video by a lady who does a lot of solo hiking and realised that there was no reason why I couldn't do it too. I was holding myself back – I was afraid of what could go wrong so didn't even try.
It was time for me to put on my big girls pant and try so I bought a guidebook and planned my first solo hike. Safety is a priority so I told my boyfriend where I was going and when I should be back. I was excited and a bit nervous but determined to do it.
Watch the video below (or click on this link to watch it on YouTube) to see how my first solo hike went.
I'm planning to create more videos of my adventures so make sure you subscribe to my YouTube channel and keep an eye on my blog page. You can also sign up to my email list via my website here.